Alexandra Holmes | 212 717 1572 | [email protected] | aholmesconsulting.com
Design Your Life
"Destiny is no matter of chance. It is a matter of choice. It is not a thing to be waited for, it is a thing to be achieved." – William Jennings Bryan
Alexandra Holmes is a Global Intuitive Life & Business Strategist Coach, offering strategic problem solving solutions in the personal, business and corporate worlds. She has been a leader in successfully transforming the lives of individuals throughout the world and initiating socially responsible product that contributed to influencing the changing face of business.
Alexandra's cognitive thinking approach determines success in accessing situation solutions which culminate in a perspective transcending the traditional boundaries set by logic and reasoning, which result in life changing experiences. The integration of the scientific, creative and spiritual, results in sustained success and fulfillment. Alexandra has a trusted system she uses to gain and provide insight for desired outcomes.
Experience
Because of having traversed cultural boundaries from world travel of over 60 countries and work in 15, she has an understanding of human nature rarely acquired which is mandatory in accessing situations for accurate information and insight.
Alexandra has extensive experience working with a diverse clientele which includes royal families, corporate executives, doctors, artists, social elite, journalists, attorneys, therapists, performers, writers, professionals, entrepreneurs, administrative assistants, wives, etc.
Previous work experience includes: Account Strategist, Creative Business Consultant, Owner & President – MAB Marketing Inc., Executive Vice President of Operations.
Lived & worked in 5 major cities of the US and London, England.
"Working with Alexandra was eye opening to say the least, if not completely mind-opening. I have never connected with anyone that is more in tune and connected to the energy in the world than Alexandra. She solved some very puzzling energetic entanglements for me, and gave me clarity on many of the questions I had. After our first conversation the energetic negativity between myself and the person in question went away completely, and Alexandra also explained a lot about the reason behind the negativity. It was amazing and wonderful to have the support she offered. There is another dimension of our energetic reality, and Alexandra can interpret that in a very helpful way. In addition Alexandra is a wonderful person – I had a very strong sense of calm during and after our calls. Thank you Alexandra, you have opened my mind."
Kristina B.
Business Owner/Writer
New York
2021
"I met Alexandra many years ago through a dear friend. I live very confidently today because of her. She sorted out my friends, helping me to see who was not a true friend. She reconnected me to my spiritual roots; the importance of which I had forgotten. She foresaw my divorce, and the behavior of individuals involved in the situation and advised me what steps to take for my protection and benefit. I also used her Energy Transformation Technique and was amazed at the relatively quick relief I felt from a mild depression, and how it favorably changed others actions towards me. She is a source of strength, knowledge, and inspiration. I value her as an individual and as a strategist."
Baroness Katherina
Europe
"Alexandra has been a stabilizing source for me over many years. She goes right to the core of a situation, and offers a way of seeing filled with connections and wisdom, and you know it is true by the resonance you feel within yourself as she speaks…as though light years of information are being connected for you. She offers sound advice and practical steps you can take that actually work, including her Energy Transformation Technique which astonishingly can transform painful emotions and change situations. I heartily recommend her for anyone: desiring to achieve their goals, seeking reliable advice, or to know future possibilities."
Mary Jane K.
Attorney
New York
"Alexandra has helped me understand how I have been limiting myself all my life. Since 2002, she has been coaching me to change my way of thinking and set my expectations higher. The Technique that Alexandra gave me helped me tremendously to overcome my fears and anxieties over my work and personal relationships. It is simple yet powerfully effective. The support she has given me has allowed me to achieve far more than I thought possible. My life is all the richer for having Alexandra as a life coach."
Jean M.
Financial Controller
Wealth Management Industry
Wife/Mother
Australia
Her proprietary methods of the Energy Transformation Visualization Technique & Energy Clearing Technique, literally change negative energies, anxiety, clears traumatic blockages and changes a situation paradigm, all of which allows one to regain their confidence and opens the way for change.
.
Proprietary Techniques
Acknowledgements
Inspired the book, "World of Risk: Next Generation Strategy for a Volatile Era" by Mark Haynes Daniell. Inscribed in the Preface – "From conception through to final editing, provided guidance, wise counsel, inspiration and direction. For Alexandra's invaluable contribution I cannot thank her enough." 2000
Acknowledged for her personal guidance, in the book, "Comfort Zone" Creating The Eco – Elegant Interior. By Trudy Dujardin – an expert on Green. – "To Alexandra Holmes for always pushing me to become better. You are my guiding light." 2014
Inspired the "Peter Saves For A Rainy Day" children's book series, on educating children about financial literacy by Rosanna Guardavaccaro. 2018-2022
A contributing participant in the International screened, award winning documentary, "A Brief History Of Time Travel" which explains the subject of time travel beyond the realm of science, focusing on how it affects philosophy, religion, the arts, etc. Directed by Gisella Bustillos. Screened in NYC, London, Venice, Colorado, Arizona and San Diego Comic Con, CA. 2018-2022
In an article, "Meet The Power Psychics" New York Post. 2012
Special Acheivements
Indirectly responsible for: The establishment of a Holistic Nursing Program, that resulted in creating a division for, Healing With Laying On Of Hands, at a major New York City hospital. 1992
The establishment of a major Charity Foundation in Mexico City, Mexico, that has successfully benefited women, children and artists. 1990-2022
The establishment of the, New Era Career Development Institute, in an under developed country in Asia. It is the first professional Institute to motivate, and provide trainings on: secretarial management, communication skills, leadership, personality development, etc., for young people, so they can rely on themselves, gain confidence and become gainfully employed. This is running successfully today and has expanded into other social programs to improve the lives of the underprivileged and cure bullying. 1995-present.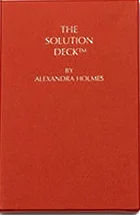 The Solution Deck
The Solution Deck is the 21th century answer for self-empowerment. It is a deck of cards that offers an integrative system which provides the link to ones inner knowledgeable self, which assist in solving problems unique to one's personal or professional life, while instilling confidence and relieving anxiety. Alexandra was inspired to create the Deck when she observed that technology was shifting the focus of power, from the self to the outside world. She was invited to have The Solution Deck put into the gift baskets of, The Oscars, The Golden Globes, and it was featured on, ABC Good Morning America and at the Sundance Film Festival. It is still available for private purchase but has limited inventory. See contact information.